Our project is fully funded.
Even so, we are looking for companies that wish to acquire the license
Are you interested?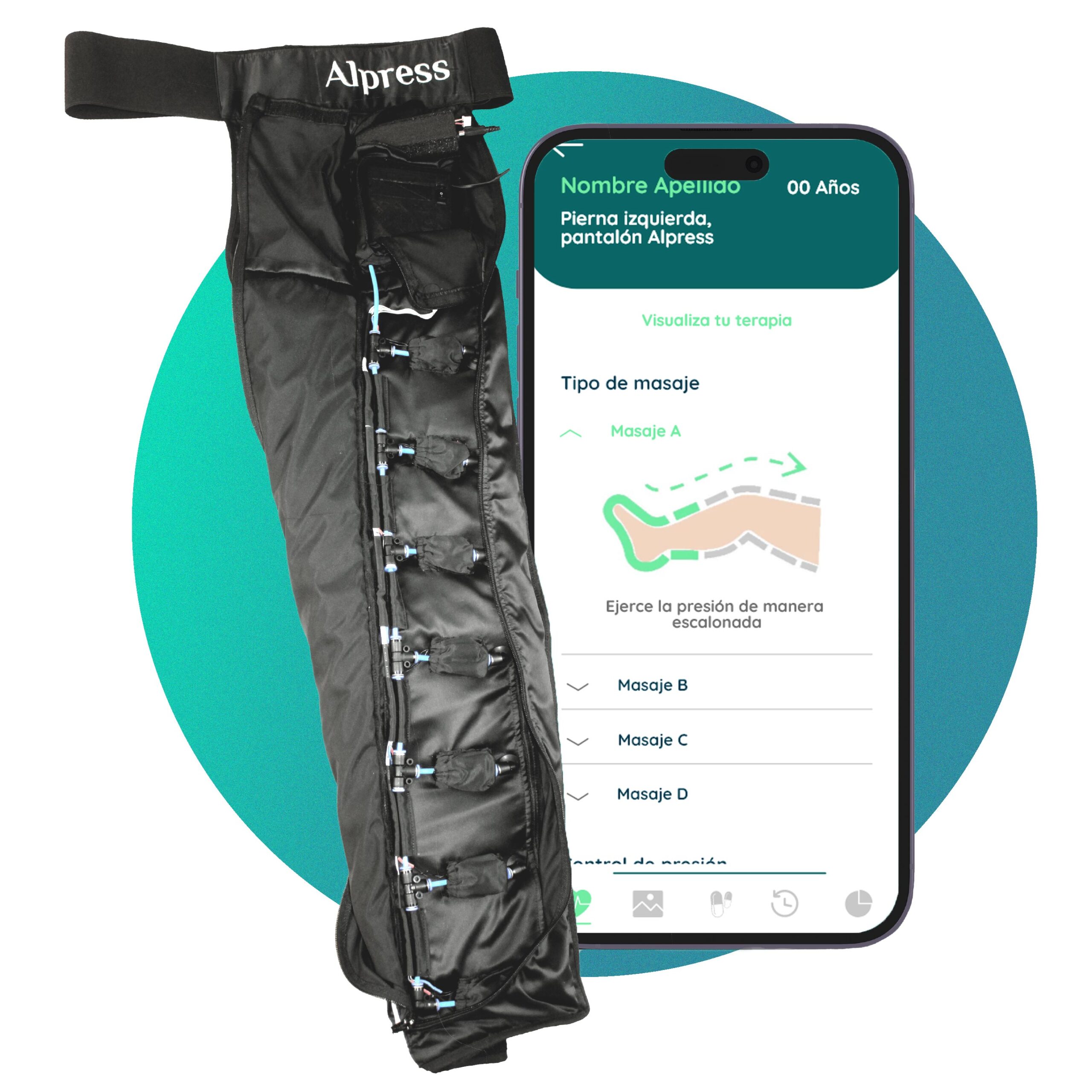 What is
Alpress?
Alpress is a portable device for treating lymphedema by applying pressotherapy in lowthe er and upper limbs.
Unlike other products on the market, with Alpress, patients can perform their daily activities while receiving therapy from home, and, by integrating the most advanced connectivity technology can be configured from a smartphone with the mobile application, and start therapies from this, the treating physician can in turn, monitor the use by the patient, formulate medications and view a photographic record of the progress of treatment.
The experts behind Alpress technology
Dr. Alejandro Latorre
Specialist in Angiology and Vascular Surgery and member of the Pan American Society of Phlebology and Lymphology.
Luis Alfonso Amaya
Capitalist investor of the Alress project, as well as legal representative of Motoreste Motors S.A
Equipo Human Bionics
Team of developers, including biomedical, mechatronic and software engineers.
Check the effectiveness
FREE TRIAL
If you are interested in learning how Alpress' containment technology works and are interested in purchasing it, contact us for a free trial of the device.
Remember that our equipment is controlled under medical supervision, so you will have a specialist doctor, guiding you from your testing process
Alpress
Expanding project
Due to the efficient results that have been obtained with the evolution in different patients, who have implemented the lower garment of Alpress in their therapies and care of lymphedema, today Alpress is developing a new line of products focused on upper extremities.
Be part of the future
Meet about our contribution plans
Acquire Licensing
Be part of the project by acquiring the production license of Alpress devices, and start receiving profits.
Alliance Plan
Contribute to the project from your experience as a patient or as a doctor, and let's ensure the quality of products for lymphedema.
Sponsor a patient
Help low-income patients purchase the Alpress therapy package, and give them a better quality of life.
ACQUIRE LICENSING
Invest in the future
Our technology is ready, which is why we are currently looking for a company specialized in the production of medical devices, which wishes to acquire the manufacturing license in exchange for a 25% stake.
Do you want to be part of this project?
ALLIANCE PLAN
Contribute to the future
We believe that each person has a lot of knowledge to share and with which they can contribute to our project from their experience.
If you are a doctor or lymphedema patient and would like to contribute to our project, contact us, and together we will continue to find innovative solutions to lymphedema disease.
If you have something to share, let's work together
SPONSOR A PATIENT
Contribute to the world
Currently, hundreds of patients lack economic resources that allow them to access the therapies and medicines necessary to deal with lymphedema, for them we have created a plan in which from economic contributions, we can give our technology to low-income patients.
Want to help?